Even with this injury concern, immediately after the England game was finished Perisic showed no sign of it hindering his excitement for the World Cup final. The squad we have is a great bunch of lads who are willing to learn and give everything and we can hold our heads high.
"This was a wonderful opportunity and you can't guarantee they'll come again, but equally we want to be a team who hit quarter-finals, semi-finals and finals".
"All these words from them we take, we were reading and we were saying: 'OK, today we will see who will be exhausted.' They should be more humble and respect their opponents more".
But one of the most viral images from the tournament came after England's loss to Croatia 2-1 in a semifinal match Wednesday in Russian Federation.
"They see a team that leaves everything on the pitch, which they have, and played with style".
"We wanted to go on and win it and we thought we had enough to go through but it wasn't to be".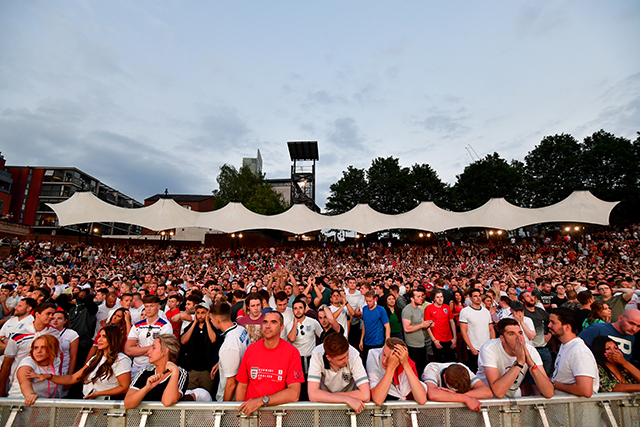 Fans packed into Manchester's Castlefield Bowl Arena for last night's game
"And we have made such strides with our supporters and our public that we want to continue to do that".
Full-back Trent Alexander-Arnold said: "Absolutely devastated that our journey is over!" It has been an honour to be a part of this special team.
England had taken the lead in Moscow thanks to Kieran Trippier's free kick after just five minutes, which was the fourth fastest semifinal goal in World Cup history, although some way behind Arne Nyberg's 38-second effort for Sweden against Hungary in 1958.and Sweden didn't make it to the final either. The support at each game has been incredible.
"We'll be stronger then because of age and big-match experiences that build resilience".
Defender Kyle Walker took some time to reflect on the defeat and said on Thursday morning: "I'm still heartbroken and never felt so gutted". The England boss and players will face the media for their final pre-match media commitments of Russian Federation 2018.
"'They are favourites, but we will do our best to surprise them".
Groenewegen's show of power silences Tour de France critics
Greg Van Avermaet retains the yellow jersey and remains first in the general classification for the fourth consecutive stage. Groenewegen told reporters after the stage: "I hope there's more".